Hi everyone, did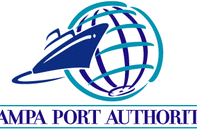 you know that Tampa Bay is home to the largest cargo port in tonnage and area in Florida?
Well if not, Shari here to tell you how fortunate we are to have such a diverse facility in our own backyard! The Tampa Port Authority, is not only a cruise port but also the petroleum and energy gateway for West/Central Florida, one of the world's premier fertilizer ports, and a top shipbuilding and repair center in the Southeast.
I recently took a tour of the port with some of my co-workers; it was truly fascinating. Our port imports and exports goods to Africa, Asia, Europe, South and Central America, Mexico, Russia…the list goes on and on. Not to mention being the homeport to four cruise lines: Carnival Cruise Lines, Royal Caribbean, Holland America, and Norwegian Cruise Lines. They all offer a variety of Caribbean itineraries.
There is no better way to see our port than from the water! If you are interested in learning more about the unique sights and sounds of one of America's largest ports then I suggest taking an Educational Harbor Tour. The Port of Tampa in partnership with The Florida Aquarium offers them free of charge on Tuesdays and Wednesdays at 9:00 am. Reservations are required. For more information you can call 813-905-5014. 
For more information on Tampa Cruising click here.
Check back with us often for more information on unique activities like this in Tampa!