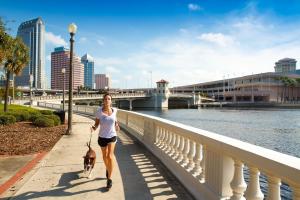 When you visit Tampa Bay, you'll go home some great memories -- and a few bucks still in your wallet.
That's because Tampa Bay knows how to have a good time without spending a lot of money. The region ranks No. 2 on DealCrunch.com's new 15 Most Frugal Cities list.
Here's what DealCrunch has to say about us:
"Locals and visitors can find great deals all over this city and enjoy entertainment and food at a low price.
Tampa offers free attractions such as Yuengling Brewery, Dunedin Historical Society and Museum, Pinellas County Heritage Village, Ybor City Guided Walking Tour and Centro Ybor Museum.
If you are looking for the latest steals and deals, there are tons of coupon blogs based in Tampa that will help you save every day."
Of course, that's just scratching the surface of the low-cost fun things to do in Tampa Bay.
With all our sun and warm weather, the Great Outdoors is a great place to start looking for free or frugal experiences.
Walk, run or ride the Tampa Riverwalk, 2.5 miles of waterfront views and fresh air.
A bike from Coast Bike Share, Tampa Bay's new bike share system, will make a spin around town even more enjoyable. Use it to ride the pedestrian path along Bayshore Boulevard.
Near the northern end of the Riverwalk, Water Works Park gives you a chance to hunt the Hillsborough River for signs of manatees, who travel upstream to warmer waters in the winter.
Water Works Park and Curtis Hixon Waterfront Park both have exciting playgrounds to entertain kids and adults alike.
When it's time to eat, Tampa Bay Pizza Co. (formerly Pizza Fusion) has a great selection of handmade, organic pizzas and salads to pick from. If you're downtown on the first Wednesday of the month, look for the Mayor's Food Truck Rally at Lykes Gaslight Park, where loads of low-cost lunch options are ready for dining al fresco in the park.
There are more options where those came from. Get out there and find your own.