One of our new partners and new landmark in downtown Tampa was recently honored at the
Tampa Downtown Partnership
's Urban Excellence Awards.  The relatively new Tampa Bay History Center was recognized for having "made significant contributions toward creating a unique, vibrant and diverse downtown."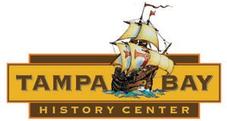 And TBHC most definitely has made an impact on the downtown/Channelside area.  If you haven't visited the History Center yet, do yourself a favor and pop in for an hour or two.  The building itself is gorgeous and sits right on the water.  The history is truly interesting and fun to learn about it.  It's "exactly what you didn't  expect" when you think of a typical history center.  It's a pleasant surprise. 
In addition to all of the exhibits, the oh-so-delicious Columbia Restaurant opened a small cafe, Columbia Cafe, and handles the food & beverage requirements for the Center.  As the weather (hopefully) cools down a bit, come check out the patio and have a glass of sangria, a Cuban and the to-die-for "1905 Salad." 
I've lived here for almost 6 years and the downtown/Channelside area has grown immensely.  The Tampa Bay History Center is just another example of how much Tampa has grown and improved as a city and as a top notch destiantion for conventions, sporting events and visitors.