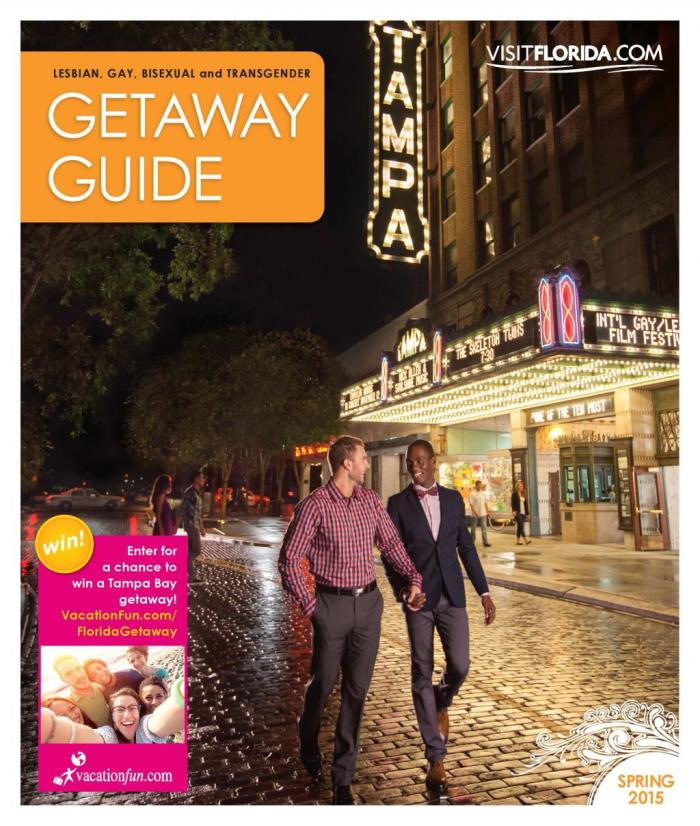 Tampa Bay will represent Florida to lesbian, gay, bisexual and transgender travelers in major cities across the U.S. for the next year when the statewide LGBT Getaway Guide is released on April 7.
On the cover of the magazine-style guide, a male couple walks hand-in-hand outside downtown's historic Tampa Theatre as the marquee announces the Tampa Bay International Gay and Lesbian Film Festival. The guide will be carried by LGBT or weekly arts publications in Boston, New York, Baltimore, Philadelphia, Chicago, and Houston as well as Washington, D.C., Charlotte, N.C., Charleston, S.C., and Columbus, Ohio. It will also run in Watermark, the publication serving Florida's LGBT community.
Visit Tampa Bay's Conquer with Pride website outlines gay-friendly hotels and gay-themed events throughout the year.
Altogether, the guide will reach more than 225,000 LGBT readers, according to Madden Media, which produced the guide as part of VISIT FLORIDA's co-op marketing program.
"We're honored to be featured on the cover of this year's Getaway Guide," said Santiago Corrada, president and CEO of Visit Tampa Bay, Hillsborough County's non-profit tourism-marketing corporation. "Tampa Bay has a long history of diversity, tolerance and inclusion when it comes to the LGBT community. This year's guide will remind LGBT travelers of the ways they, too, can unlock Tampa Bay."
The Getaway Guide is the latest thing to raise Tampa Bay's profile in the LGBT community:
Tampa held its first LGBT Pride festival in more than a decade in Ybor City on March 28.
A recent Gallup poll shows the Tampa Bay region has one of the state's highest concentration of LGBT residents (second to Jacksonville and tied with Orlando) and is well ahead of the national average.
Visit Tampa Bay created an ad inviting same-sex couples to choose Tampa Bay for their weddings and honeymoons. The campaign was tied to the legalization of same-sex marriage earlier this year.
Tampa Bay ranked at the top of the Human Rights Campaign's 2014 Municipal Equality Index both nationally and statewide. The average score nationally was 59 out of 100; statewide was 65 out of 100.
Before same-sex marriage became legal, Tampa Bay was the first community in west Florida to let same-sex couples register as domestic partners, granting them protections in health care and child-rearing.
Tampa Bay remains the home of GaYBOR, the LGBT Chamber of Commerce centered in historic Ybor City. The region also hosts Florida's largest Pride parade each summer.