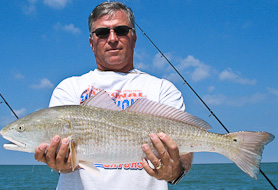 Hey everyone.  Travis back with a Tampa Bay fishing update for you.  Yeah, I know you love to spend time on the Tampa Bay area beaches, but when you feel like getting off the sand and heading in to the water, then listen up.  Here's the latest fishing update from Capt. Stewart Ames -
Redfish become the primary inshore fishing target during the heat of summer in the Tampa Area and this August was no exception.  Water temperatures actually exceeded the ninety degree mark on several days, which had even the heat tolerant redfish moving a little slower than usual.  Fishing was best on the high and outgoing tides. 
Residential docks and grass flats with good water movement appeared to be the most productive locations. As has been the case all season, most of the fish caught were of good quality.  Pinfish bobbered a half a foot off of the bottom or cut baits were most productive.  Looking  forward into September, redfishing should only get better as days get shorter and daytime temperatures start to moderate a little bit.  Schooling fish should be easier to find as well, setting the stage for double digit catch days.
Although Tampa Snook Fishing is best during May, June and early July, quality fish can still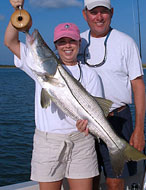 be caught in the late summer months by the persistent angler. Those interested in targeting a large specimen should night fish with big baits such as grunts and ladyfish.  
The best times are during strongest tidal movement.  As is almost always the case with snook, let the baits float naturally through the snook's lair with no weight unless the current is very strong.  Likely hangouts for these larger fish include the deep cuts near local passes, jetties, and around lighted docks known to harbor big fish.  Snook are present in the same locations during the daylight hours, but  seem more reluctant to eat when the sun is high.
At some point in September, water temperatures will begin to drop. This cooler water will trigger a migration of mangrove snapper to our near shore Pinellas County Reefs in large numbers.  Last year, this fishing lasted from late September to December.  On days where the tides are weak and inshore fishing a little tougher, a trip 4 - 5 miles offshore to these reefs can be  great "Plan B".  By aggressively chumming, hundreds of snapper can be brought to the stern of your boat. 
Although wary on some days, they can be hooked on every cast on others.  Free-lined shrimp or a small whitebait dropped back into the slick is the best technique for regular hookups.  Larger fish are typically found towards the back of the slick.  If this approach does not pay off, take the same bait and drop it directly to the  bottom with as little weight as is needed to hold it stationary.  Do not move the bait at all.  Just wait for a tug.  Snapper will approach a bait like this and circle it, sometimes for minutes, before they pick it up.  Once the snapper are effectively chummed up, rig a couple of heavy action spinning rods with a steel leader above the hook. 
Take larger baits such as threadfin herring or big pilchards and cast these baits, on balloons, well back into the chum slick. Place these rods up above where they are out of the way and just wait.  While everyone is actively focusing on filling out their snapper limits, a drag will start screaming as a larger predator has inhaled one of these ballooned baits.  In September, this could be a Spanish mackerel, bonita, cobia, barracuda or shark...any of these providing an interesting diversion from snapper fishing. 
With August in the rear view mirror, fishing will only get batter for the next few months. The best days to inshore fish during the month of September are the 5th through the 11th and the 20th through the 26th so plan your fishing trips with these dates in mind. 
And there you have it.  Good luck and good fishing.  And in the meantime, keep checking back here for more things to do in Tampa Bay and other Tampa Bay area events.