So my diet is not going that well as you can imagine. Last week I had that massive chicken sandwich over at the Palm, and today I had another massive burger in the form of the "Fatty Melt" over at
The Blue Water Grill
in the
Quorum Tampa
.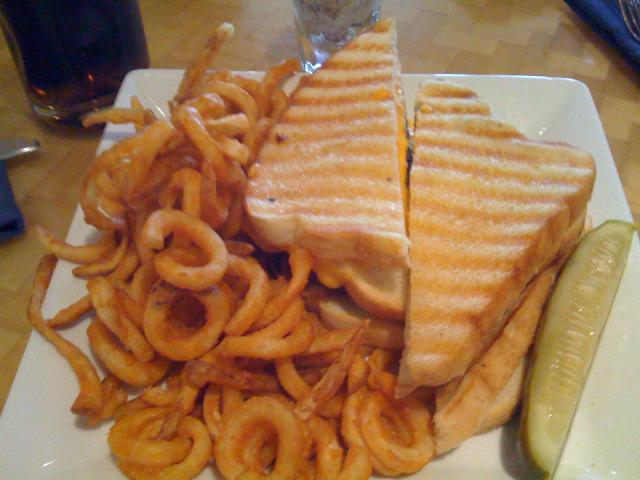 Folks if you haven't been there yet then you should definitely give it a try. Normally I find myself eating the entire meal and asking for dessert and more, but today I was officially stuffed. Kudos go to
Chef Kelly
over there for this creation, as well as filling my belly and ruining my diet, (which I thank her for.)
The only way I can explain it is that it was two grilled cheese sandwiches with a slab of beef in the middle with what I believe was a bacon flavored mayonnaise. Sorry for the awful description, but it was damn good. So much so that I saved the other half of it for dinner.
On the side was a mound of curly fries, and unfortunately Jerm has a hard time saying no to curly fries, so those didn't make it to the end of the meal. There was even a buffet going on and I heard through the grapevine that this is the best lunch buffet in town and it sure smelled like it, so whether you are stopping in for dinner, or a quick lunch, I don't really think you can go wrong with this place, as it is a Tampa Bay dining extraordinaire!
If you make it by there, say hi to Brandon, who is the Catering Manager, and give Chef Kelly a hug and tell'em both that Jerm sent you. Well don't hug her first, I mean at least introduce yourself...
Stay tuned for more things to do in Tampa Bay!