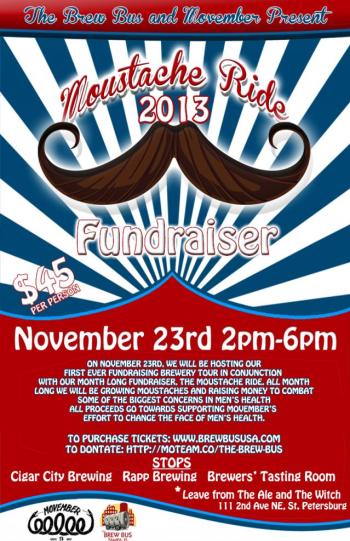 The Tampa Bay Brew Bus is doing a public brewery tour this weekend to help promote Movemeber.  The tour will visit some of the breweries throughout the Bay area with proceeds going towards the Tampa Bay Brew Bus team donation.  Check out their staches and official Movember donation page here: http://us.movember.com/team/1079457

The tour will leave from the Ale and the Witch in St. Petersburg, but will make stops at Cigar City Brewing, Rapp Brewing and the Brewers' Tasting Room.  The cost is $45 a person and even includes a perfect "fake" mustache for those who can't grow them! During the brewery tour, 1 pint of craft beer will be provided for each location, transportation and even beer on board when traveling from place to place.
Sign up today! Spots are going fast!  Sign up here: http://www.tampabaybrewbus.com/events/event/12-the-movember-moustache-ride.html
 
If you have been hiding under a rock, and curious to why every guy you know is growing facial hair.  Let's catch you up to what Movember is…
Movemebr is an official global charity with a vision to have an everlasting impact on the face of men's health.  Each year in November, men from all over the world sprout millions of mustaches.  From the power of Movemeber, vital funds and awareness are raised for men to combat prostate and testicular cancer and mental help challenges.  http://us.movember.com/?home
Cheers to beers, mustaches and doing good in Tampa Bay Y'all!
- Kat