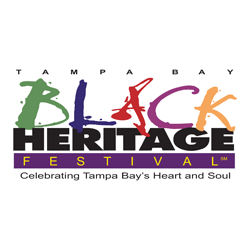 Hello gang, Jerm here with an update on one of the premier cultural Tampa Bay area events in the southeastern United States! That's right folks, the 10th Annual
Tampa Bay Black Heritage Festival
is upon us and the festivities will kick off this week with a host of great events for all to attend!
For those of you who didn't know, The Tampa Bay Black Heritage Festival (TBBHF/The Festival) is a ten-day cultural event that features speakers, musicians, artists, poets and craftspeople locally and nationally at various locations throughout the greater Tampa Bay area.
The Festival, which will take place January 14-23, 2010, traditionally begins the week-end before and concludes the week-end after the Dr. Martin Luther King, Jr. holiday. Each day of this ten-day experience provides both children and adults with an opportunity to increase their awareness of African and African-American culture and history.
Here are the events that will kick off this years festivities:
Jan 14, 2010
USF University Lecture Series
7:00 pm - 9:00 pm
Tampa, FL
Financial Seminar
6:30 pm - 8:30 pm
Tampa, FL
Jan 15, 2010
Heritage Gala*
6:00 pm - 9:30 pm
Tampa, FL
MLK Step Show
6:00 pm - 10:30 pm
Plant City, FL 33563
Jan 16, 2010
TBBHF 2K Walk/Run for Cancer
7:30 am - 9:45 am
Tampa, FL 33602
Heritage Street Festival - Old School Saturday*
10:00 am - 6:00 pm
Tampa, FL 33602
Jan 17, 2010
Soul Roll Invitational Skate Jam
12:00 am - 4:00 am
Tampa, FL
Heritage Street Festival - Jazz/Gospel Sunday*
11:00 am - 6:00 pm
Tampa, FL 33602
MLK Drum Major for Justice Battle of the Bands & Extravaganza
6:00 pm - 9:00 pm
St. Petersburg, FL
Sunday Night Soul Roll
9:00 pm - 2:00 am
Tampa, FL
Plant City MLK Leadership Breakfast
7:30 am - 9:00 am
Plant City, FL
I'll be back later this week with an update about next weeks events so be sure to check back as we give you the low-down on the arts and culture in Tampa Bay scene!