Good morning everyone, Alex here to inform you that Tampa Bay has made it on the big screen.
Don't be shocked if you recognize the Clearwater Marin Aquarium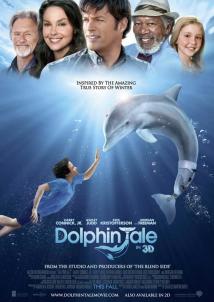 or various locations across the Bay area in the movie Dolphin Tale, coming out in September. 

Dolphin Tale is a family – friendly film about "Winter," a young dolphin who lost her tail in a crab trap, and Sawyer, an 11-year-old boy who befriends this dolphin.

The movie is based on the true story of Winter the Dolphin who was rescued in 2005 and has been living and rehabilitating at the Clearwater Marine Aquarium. Scientists at the aquarium had a special prosthetic made for Winter to help her swim without her tail.

Crews shot the big screen film in several locations across the Bay area last fall, including the Bay News 9 newsroom and the Clearwater Marine Aquarium.
The movie features stars Kris Kristofferson, Ashley Judd and Harry Connick, Jr. and even trainers from the aquarium.  

A featurette for the movie Dolphin Tale is now being shown nationwide in theaters, but you can also check it out here. 

Make sure to go see "Dolphin Tale" when it is released on Sept. 23, 2011. 

In the mean time, check out the first trailer for the movie and an interview with the movie's young star, Cozi Zuehlsdorff, by going to Tampa Bay On Demand Channel 340, then clicking on the 'Movies and Music' category.


Check back with us often for more information on Tampa Bay Film!