The
United Soccer Leagues
announced the
2009 USL SoccerFest
will be held November 19-24 in Tampa, which is the the home of the organization's headquarters.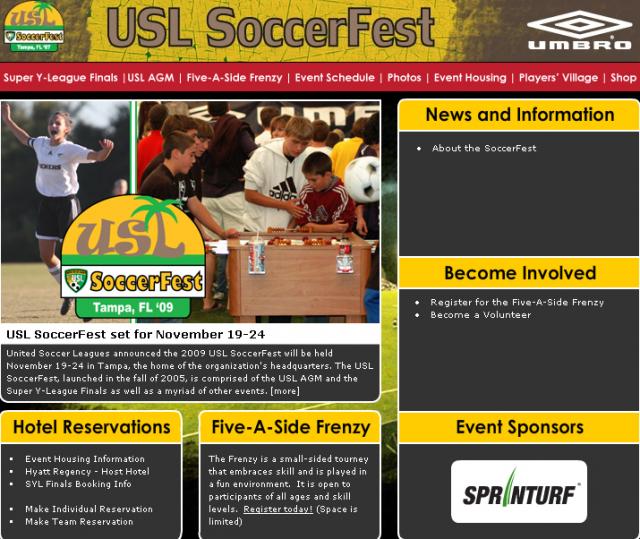 The 2009 USL SoccerFest is expected to draw 10,000-plus participants, family members, and spectators from across the US and Canada for the events. Visitors are anticipated to occupy more than 8,000 hotel room nights, utilize over 800 rental cars and vans, account for over 4,000 flights, and consume over 75,000 meals.
The USL SoccerFest, launched in the fall of 2005, and is comprised of the USL Annual General Meeting, the Super Y-League's 11th Annual North American Finals, and the Five-A-Side Frenzy.
The 2008 USL SoccerFest was a tremendous success. The SYL North American Finals featured an interactive Players' Village that was home to a fully functional Sprinturf field, which was one of the main fields for the second edition of the local Five-A-Side Frenzy tournament. A FIFA 2008 video game tournament rounded out the exciting events housed in the Players' Village.
The USL SoccerFest is an annual event in Tampa with a multi-year partnership between USL and the
Tampa Bay Sports Commission
that makes Tampa the home of the USL SoccerFest through 2010.
Stay tuned for more things to do in Tampa Bay!