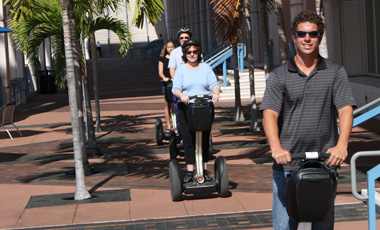 Hey folks! Jerm here with an update on something that you guys should all try if you haven't had a chance to do so!
As you know, a few weeks back, I took my first Segway Tour through Ybor City, and had a pretty awesome experience!
I must admit that the lure of the Segway has me and I am looking forward to my next ride, which is why I wanted to tell you about another Segway Tour here in Tampa Bay!
Magic Carpet Glide Segway Tours
offers Segway tours through beautiful Tampa Bay. Ride through some of Tampa's most popular destinations with an experienced guide. Some of the stops you can expect to make along the tour include: Bayshore Boulevard, Davis Island, Harbour Island, Tampa Convention Center, and Tampa Riverwalk.
I don't have to tell you that these are some of the most beautiful waterfront locations we have here in the Bay so you can imagine how great this tour is! And you don't even have to take my word for, as Magic Carpet Glide Segway tours is
ranked #1 on TripAdvisor for Tours in Tampa!
The tour lasts about an hour and a half or so in addition to the 20 minute training class. The instructors are very hands on and safety is always first, so you can rest assured you are in good hands!
For more information and to make a reservation for a tour, be sure to checkout their website at
http://www.magiccarpetglide.com/tours.php
, and stay tuned in for more updates on things to do in Tampa Bay!