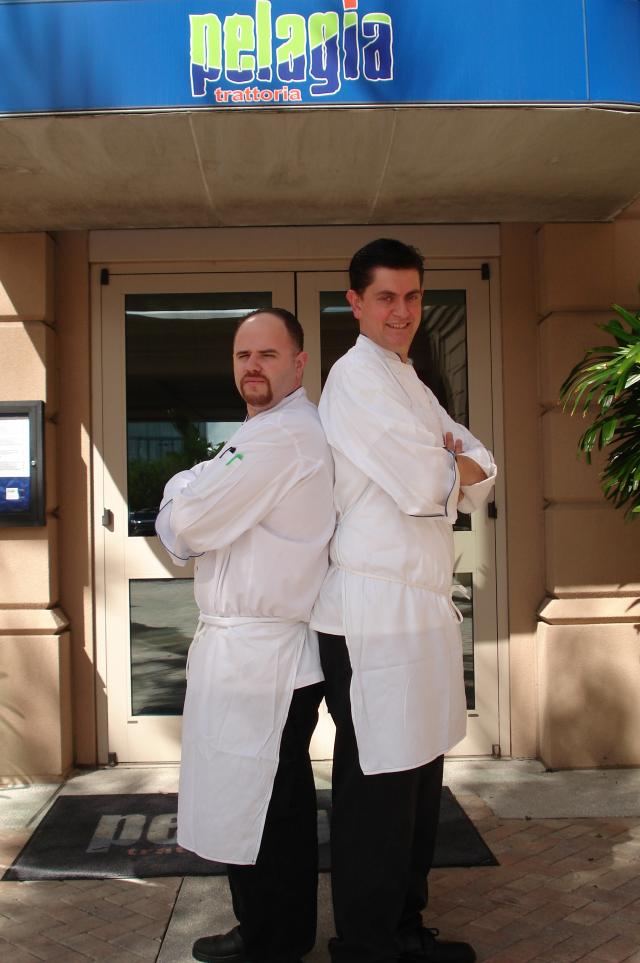 As the Tampa Bay Buccaneers football team prepare for battle against the New York Giants,
Pelagia Trattoria's
top culinary draft picks debated which palate-pleasing dishes they'd be most likely to create for a game day tailgate party.
In one corner stands 41-year-old Executive Chef Fabrizio Schenardi, a native of Rivoli, Italy who is 6' 4" and has 23 years of culinary experience.   Facing off with him is Daniel Goldich, a 30-year-old native of Atlantic City who has worked in the culinary arts field for 12 years, stands 5' 10" and is the Senior Banquet Chef at the Renaissance Tampa Hotel, where Pelagia Trattoria is housed.
One the older, more experienced chef whose interests favor World Cup Soccer matches over American football games.  The other a native of New Jersey who knows football fans are as serious about their food as they are their favorite sport.
Together they came up with a winning game day strategy for a feast that features hot foods, fresh veggies, delicious desserts and a lot of fun!
Daniel:
  We would have to have paninis, an Italian-version of a hot, grilled sandwich.  Those are usually filled with cured meats like capicola, mortadella, salami and provolone and served with an Italian-style bread that has been scooped out and filled with meats, cheese and a muffuletta olive spread.  You want to have finger food.  Instead of spending most of the time cooking, it's best to bring some items to a tailgate that require minimal cooking or heating so you can have fun and enjoy everyone's company without fussing over a lot of food.
Fabrizio:
  What I would do for a tailgate is pizza.  But I would pre-make some of it before the game and then put it on the grill once I am there.  You can bring along pizza dough that is partly baked.   I would cook both sides on the grill to raise the dough a little bit and then put on the tomatoes, the mozzarella cheese, some onions and sausage and then roll it.  People like it and it is fun to make.  You should use good Italian sausage or even chicken sausage and make it like a calzone.
Then I would serve fresh vegetables that I've grilled instead of serving chips.  The night before, get together with friends and make basil oil, gazpacho dipping sauce or some sort of reduction sauce with beer or wine in it.  Put those into different squirt bottles and use them to coat the top of the veggies.  We do something similar at Pelagia for our Caesar fondue.  By brushing the romaine lettuce with just a light coat of olive oil before lightly grilling the entire leaf you give it a slightly smoky flavor that lets the flavor of the vegetable come through and keeps it just a little bit crisp, not soggy.  You can use eggplant, zucchini, bell pepper, fennel….
Daniel:
  No don't put fennel on the grill.  Maybe something like butter squash.  And I think you need to have steak.  The Pelagia ribeye uses a signature rub made with garlic, porcini powder, red pepper flakes, balsamic vinegar and sugar.  That particular cut of steak has enough fat content to keep it juicy and flavorful so it holds up well on a grill.  But you should marinate the steak the day before so all you have to do is put in on the grill, cook and enjoy.
Fabrizio:
  For people who don't like steak, or just want to enjoy some seafood, take some shrimp that are still in the shell.  Place the shrimp shell side down on the grill with a bit of foil underneath.  Brush the top of the shrimp with some spicy butter made with paprika, lemon juice, garlic, chopped parsley and cayenne pepper.  Just leave the shrimp on the grill for two to three minutes, depending on the size of the shrimp, and enjoy!
Daniel:
  In the tradition of tailgating, how about some Italian S'mores for dessert?  Take some biscotti, top it with some Verona chocolate, add marshmallows and then lightly grill it just enough to soften the chocolate and melt the marshmallows.
Fabrizio:
  Tailgating is a time to enjoy a lot of great foods in a casual manner.  And to use some ingredients that are seasonal.  You could bring along a pound cake and slice into individual pieces.  Use some Honey Crisp apple slices, that are in season now, pine nuts and raisins, place the piece of pound cake on grill quickly just to toast it very lightly.  Spread a little Nutella on top, add the fruits and nuts and serve.
Daniel:
Now all we need is the perfect drink to enjoy with all of this great food.  How about a little twist on the traditional recipe for sangria?  It's fall so why not add apples and cranberries instead of the usual citrus fruits?  And substitute grappa for brandy?
Fabrizio:  Sounds good.  Now we just have to get tickets to the game, pack up the grill, pick up the ingredients and head out to Raymond James Stadium Sunday.
Daniel:
  As great as that sounds, that is my day off.  I think I should celebrate the day by not cooking and just relaxing and enjoying the game.
Pre-game, post-game or anytime, enjoy the fresh, seasonal flavors that are the signature of Tampa's Pelagia Trattoria.  Chefs Schenardi and Goldich have helped make Pelagia one of "America's Top Restaurants 2009," according to Zagat.  Pelagia is open for breakfast, lunch and dinner daily and located in the lobby level of the
Renaissance Tampa Hotel International Plaza
. 
The Four Diamond property was named "2008 Renaissance Hotel of the Year" by Marriott International.
www.pelagiatrattoria.com
or
www.renaissancetampa.com
. 
For information, or reservations, call 813-313-3235 and stay tuned in for additional info on Tampa Bay dining and Tampa Bay hotel updates.