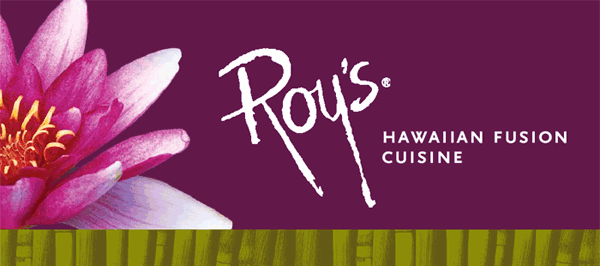 Lisa here with a Tampa Bay Dining update.
Roy's Hawaiian Fusion
is hosting a Table Talk with the Executive Chef on Sunday, April 10th at 6pm. Join Roy's Executive Chef Ryan Leto for an intimate dinner with only 16 people. The cost is $55 excluding alcohol, tax and gratuity. To make reservations contact Roy's at 813-873-7697.
Chef Roy began his career in family owned restaurants when he was only 13. He began his journey with Roy's Hawaiian Fusion in 2000 and has shared time as a Sous Chef, Corporate Trainer, and Chef Partner at several locations throughout the country.
The menu for the evening sounds amazing, so I would make the call today!
Roy's was founded by internationally acclaimed Chef Roy Yamaguchi. Roy's reflects his personal commitment to serve exciting and innovative Hawaiian Fusion Cuisine. His creations have received international acclaim and there are currently over 30 Roy's Worldwide.
So if you can't make it to the dinner this weekend and you can't decide where to eat Saturday night, I would recommend Roy's!
That's all for now, but check in later for other Tampa bay Area Events, and Things To Do In Tampa Bay!