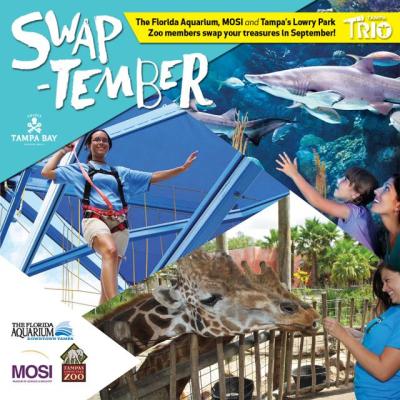 During the month of September, members of The Florida Aquarium, Museum of Science and Industry (MOSI) and Tampa's Lowry Park Zoo can swap memberships and try out the other attractions.  So, maybe you take the kids regularly to Tampa's Lowry Park Zoo, well… with the Swaptember deal you can visit MOSI or The Florida Aquarium for FREE. 
Also, if you have been thinking about purchasing a membership to any of these Tampa Bay attractions, this would be a great month to do so! One membership, three attractions means you save lots of $$$$!!!
Sounds SWAPtastic to us!
This is a great chance to see what the "Tampa Trio" offers.  At The Florida Aquarium, get inches from 20,000 aquatic animals and plants, see playful river otters and sharks.  At MOSI, science becomes cool with over 450 hands-on activities for the whole family.  Tampa's Lowry Park Zoo offers a wild adventure with more than 1,500 animals, including manatees and lots and lots of Zoo babies.
Quick Tip:
Members will need to pay for parking at The Florida Aquarium and MOSI, but parking is always FREE at Tampa's Lowry Park Zoo!
 
For additional details and helpful hints click here: http://www.lowryparkzoo.com/Swaptember.php
Stay tuned for more ways to unlock some of Tampa Bay's top attractions!