Hey everyone.  We are enjoying some more great Tampa Bay weather, AND, we have some really exciting news for you, so take a look!  We are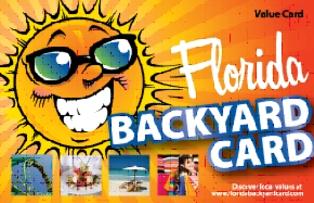 always talking about supporting your hometown (aka backyard), and now VISIT FLORIDA is giving everyone a way to do that.  Here's the info -

On March 24th, Florida Governor Charlie Crist will join businesses, chambers and associations from across the state to launch Florida's Backyard Card incentive program to give Floridians another good reason to get out and support their local businesses. The Backyard Card program, part of the Backyard Economics campaign, is a powerful marketing tool which you can leverage to grow your business.

How it works:

Consumers across the state will be urged to get a Florida Backyard Card, which will be available online (FloridaBackyardCard.com) and distributed by Florida Lottery retailers

The campaign will be heavily promoted across the state by the Florida Lottery as well as print and broadcast media partners

Consumers will access the online searchable database to find the best values in their backyard

The campaign will continue into the fall

And there you have it...now you can get the scoop on all of the Tampa Bay entertainment, as well as entertainment acorss the state!  If you need more info, you can head over to www.Backyardeconomics.com. 

And remember to keep checking back here for more updates on things to do in Tampa Bay!