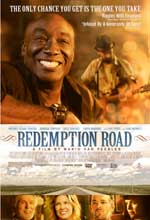 Happy Friday Tampa Bay! Alex here with some exciting film news…Redemption Road, a film produced by many Tampa natives' is now in theaters!

The executive producer, Charlie Poe, is a Tampa resident who serves on the boards of Academy Prep of Tampa, Glazer Children's Museum and Junior Achievement of West Central Florida. He's also on the Board of Directors for the Gasparilla International Film Festival.

"Redemption Road" is a story about forgiveness and making a comeback. Themes of second-chances and facing one's fears weave in and out of this journeyman's tale, which is told via emotional characters and a lively and moving blues-laced soundtrack.

Nearly a year ago, the film (originally titled "Black, White & Blues") was screened for a benefit at the David A. Straz Jr. Center for the Performing Arts. After that, the film went on to play at numerous film festivals across the country, hoping to find a distributor.

Eleven months later, the newly branded feature found distribution through Freestyle Releasing  and  today six theaters in Tampa Bay will be screening this film!

Check out the movie trailer at http://www.movieinsider.com/m9342/redemption-road/.

Some of the Tampa natives who were a part in creating this film, include: Charlie Poe, Morgan Simpson and Jeff Balis.

Help support local film and head on out to theaters this weekend to see a great movie!
Have a wonderful weekend and check back with us next week for information on Tampa Bay Film!