Looking for somewhere to enjoy the "Big Game" this weekend in Tampa Bay?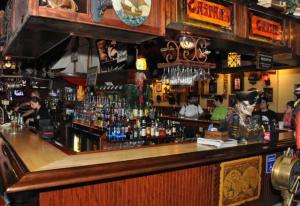 Gaspar's Grotto, located in Ybor City, Tampa's Historic Latin Quarter is hosting their 2nd Annual Super Bowl Party.  For only $30 enjoy an all-you-can-eat buffet and  all-you-can-drink domestic drafts, house wines and well cocktails.  If you didn't go last year, make sure you go this year… you don't want to miss this party and at only $30 it may be one of the hottest Super Bowl party deals in Tampa!
Enjoy the new outside Galley Patio with the big screen TV or the Lounge area.  Buy your tickets soon before they are sold out!
For more information and to purchase tickets visit the Gaspar's Grotto website: http://www.gasparsgrotto.com/
If you are not a fan of the hustle and bustle of crowds and would rather stay home to enjoy the "Big Game" we have a great deal for you! 
DoorstopDelivery.com offers a fantastic solution and discounted deals to insure your in-home Super Bowl party is a blast!  Place your order online in advance and save BIG!
Here are the discount codes for you to use when ordering online:
Take $5 off when you spend $50 using code: TPAB5
FREE delivery on orders over $35 ($3.99 Value) using code: TPABFR
½ off delivery when you spend $25 ($2 Value) using code: TPABHALF
*Important: Coupon Codes are CASE SENSTITIVE and all coupons expire on Sunday at 4 p.m.

If you are not familiar with DoorstepDelivery.com and their professional team of "mobile waiters" you are missing out my friend!  This delivery company is revolutionizing the way people eat, allowing the convenience of having your favorite restaurants delivered directly to your home, office or event! Cheaper than catering and YOU select what you want from YOUR favorite restaurants, where YOU want it (at your home, office, hotel, event, pool…) when YOU want it (order now and place for future delivery) and how YOU want it (delivered, picked up or dine-in).
Enjoy football, friends, food ALL in the comfort of your home and delivered to your doorstep!
Participating restaurants:  TooJay's , The Rack, Green Iguana, Red Elephant Café, Wimauma, The Bungalow, Datz