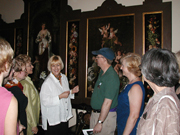 Hey everyone. Travis back with more great things to do in Tampa Bay.  On Sunday, April 17, a complimentary tour (with regular admission) of the Henry B. Plant Museum will occur. At 1 pm, a Museum docent will lead a 35-40 minute tour of the Museum. Immediately afterwards, Curator of Education, Heather Trubee Brown, will make a 5-10 minute presentation on garden seats.
 
At 2pm, Upstairs/Downstairs at the Tampa Bay Hotel will feature Arthur Schleman, Hotel Hunting  & Fishing Guide, 1895. This 30-minute live theater performance of a dashing guide showcases his talents at trapping all kinds of game and hunting on horseback to avoid rattlesnakes. 
Mr. Schleman is a true storyteller who has definite opinions about everything from horseless carriages, called motorcars, to past and current events.  He can recite poetry by heart and is a would-be gentleman of means.  Upstairs/Downstairs is also complimentary with regular admission of the Museum.
 
Oh, and for those of you who STILL haven't been over to the museum, here's a little bit about it - The Henry B. Plant Museum interprets the turn-of-the-century Tampa Bay Hotel and the lifestyles of America's Gilded Age.  Critical to the success of this mission is the restoration and preservation of this National Historic Landmark, an opulent 1891 railroad resort, and the artifacts significant to its history, and the life and work of Henry Bradley Plant. 
The Museum is open Tuesday through Saturday, 10 am to 5 pm, Sunday, noon to 5 pm.  Closed Monday, Thanksgiving and Christmas.  Admission is $10 per adult, $7 for seniors (65 yrs.), $7 for students and $5 for children 4 – 12 yrs.
Have fun everyone, and keep checking back here for more Tampa Bay area events and other Tampa Bay Entertainment options.