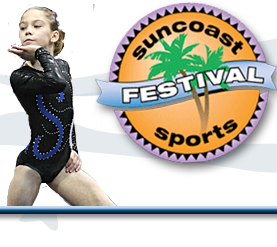 Hey all you sports fans.  Travis back with some awesome Tampa Bay area events to come out and watch.  You can come join our nation's best athletes from thirteen exciting sports as they compete against each other at the Suncoast Sports Festival.
Come to the Florida Fairgrounds arenas for Girls and Boys AAU and USAG Gymnastics, Tumbling and Trampoline, Rhythmic Gymnastics, Karate,Tae Kwon Do, Baton, Cheerleading and Dance.  They also have on reserve several local fields for their  IBC Baseball and Softball events.  And the University of South Florida is home for the Basketball events.
 
The Suncoast Sports Festival is Florida's number one spot for all of the athletes in your family. Bring the whole family and enjoy everything that the SSF can offer! 
Plus, read this story that ran in the Tampa Bay Business Journal about the event - http://www.bizjournals.com/tampabay/stories/2010/08/16/story4.html. 
It's going to be here later this month, so start making your plans to get out there and see some exciting competition.  For more info, head over to http://allsportsinvitational.com/. 
And keep checking back here for more updates, as well as more info about great things to do in Tampa Bay.