Hey everyone!  Travis here with another Summer 2009 Travel Trend from SmarterTravel.com!  So, here we go -

Travel Trend #5 - Great Exchange Rates

In previous years, I've written features about alternatives to Europe (because the dollar was so weak against the euro). This year, however, it's a different story. With economies worldwide taking a hit, the dollar is doing much better in former budget-buster destinations such as England and other Western European countries.

Your dollar will go far in Iceland this summer, from hotels to restaurants, attraction admissions to live entertainment. The country's recent economic woes create an environment that is very welcoming to tourists, and also enables a luxury experience that can be done on the cheap. Or, if you want to branch out beyond Iceland, Icelandair is currently offering an Iceland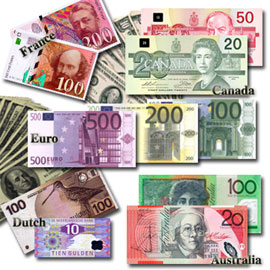 Stopover deal, which allows you to include a stop in Reykjavik for no extra charge. If you're interested in seeing Iceland in addition to another European destination, this deal is a great value.

England, prohibitively expensive in previous years, is now a good option for budget vacationers. At press time, £1 was exchanging at about $1.45, a very decent rate. Vacation deals are affordable, too: go-today.com has an assortment of trips to choose from, including a "London at Its Best" promo featuring round-trip airfare, six nights' accommodations, daily breakfast, and hotel taxes and fees from $949 for summer. If you also want to explore the countryside, consider the "England Fly & Drive" package starting at $849 in summer, including round-trip airfare to London, a seven-day Hertz car rental with unlimited mileage, local taxes, and airfare fuel surcharges.

And there's your Summer 2009 Travel Trend #5...courtesy of SmarterTravel.com.  Don't forget, we will keep bringing you the summer trends until...well, until we run out of them! 

And keep checking back for more Tampa Tourism information, as well as updates about great things to do in Tampa Bay!  Summer if quickly approaching, so get ready to hit those Tampa Bay area beaches and enjoy this amazing Tampa Bay weather!