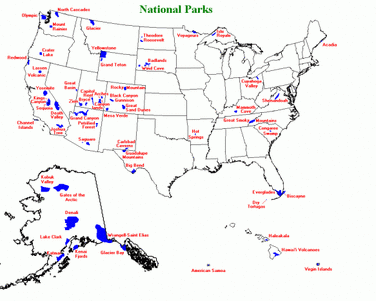 Hey gang...Travis here with you Summer 2009 Travel Trend #6 from SmarterTravel.com!  Here it is...

Travel Trend #6 - National Parks

Accessibility and affordability are big trends this year. With many national parks within a drive away, and also offering affordable admission and accommodations (campsites and lodges are usually much cheaper than area hotels), national parks can be a great option for budget-oriented travelers. The biggest trend I've seen so far are early-bird specials, so you'll want to act fast to take advantage of these good deals.

If you can get away in early summer, Xanterra Parks & Resorts is offering Yellowstone Summer Getaway Packages including lodging, daily breakfast, a welcome gift, and a discount card redeemable at area restaurants, gift shops, and tour operators. A two-night minimum stay is required, and rates start at $139 per person for packages at the Mammoth Hot Springs Hotel from May 29 through June 17. Other deals at Xanterra's Yellowstone lodges are also available.

Shenandoah National Park's resorts and lodges have a host of accommodations packages, including "Early Bird Packages" from $104 per night through June 25, an "Explorer Package" including a bag lunch and trail maps for $128 per night for stays from April into either September or November (depending on the resort), and a "Blue Ridge Package" including breakfast and dinner from $198 for stays from April 12 through November 24.

You can search for additional promotions and special offers at your national park of choice by visiting the National Park Service website, as well as Xanterra, the lodging company for popular parks such as the Grand Canyon, Zion, and Bryce Canyon.

Yes, not all of these lead to Tampa, but we are here to bring you the latest tourism information...so there you have it!  But, keep coming back because we have more updates and trends for you! 

And as always, keep checking back for more Tampa Tourism information, as well as updates about great things to do in Tampa Bay!  We have some really cool events coming up, so log back in to get your Tampa bay entertainment info...and for goodness sakes, get out and enjoy the Tampa Bay weather!!!!!