Hello everyone! Jerm here with a sweet Tampa Bay area events update and I feel like giving away some tickets as well! Our peeps over at the
Florida Aquarium
or
@FloridaAquarium
to you twitter peeps, will be putting on their annual
SudsFest 2010
sponsored by*
TBT
and
Pepin Distributing Company
event this weekend.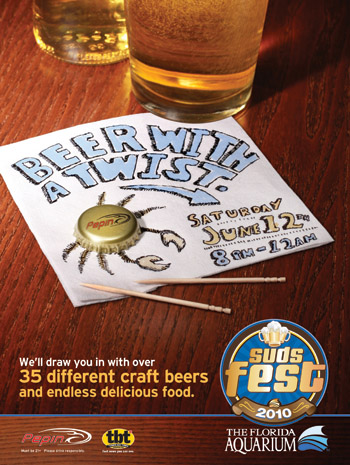 For those of you who have been living under a rock and didn't know, SudsFest is an event with beer, aka "Suds" from beer from breweries all over the world and the Bay area, will be on display for you to throw back. Just to level off all of the beer I am sure you will be drinking, there will be a sea of live entertainment and food on display as well from some of Tampa's favorite restaurants!
Here is a refresher on the way the giveaway will work. Instead of re-tweeting like I used to make you do, just answer the question on
Twitter
. Once you do that you will be entered in to win, as we will randomly draw.
For those of you who choose to re-tweet, it does indeed increase your chances of winning.
I draw names from the first 10 correct answers, so make sure you get the correct answer! Around 5pm I will TwitVid the name of the winner! Let's hop right into it!
So here are the rules again, just in case you forgot...
You have to be following us on Twitter...
Answer 2 riddles about The Florida Aquarium...
I am a 72-feet long, I allow guests to encounter the awesome animals that thrive our these local waters and I am employed (underpaid of course) by the Florida Aquarium. What am I? (Proper name only)

I am a 93,000 gallon saltwater tank. I like long romantic swims under the moonlight and my waters remain a cool 76 degrees year round? Steven Spielberg once directed a famous movie about the type of animal that roams around in my tank. Who am I? (Proper name only)
Okay guys that is your trivia for the day! Get to answering, and remember I'll be back around 530 with the winners!
In the meantime, check out the list of food vendors that will be in attendance at SudsFest this weekend! I would list the 35 beers brought to you by
Pepin Distributing Company
, but there are a tong of them, so check out the
Florida Aquarium website
for more information on those guys!
Bennigan's Channelside
Datz Delicatessen & Foodie's Market
Weck's American Grill
Gaspar's Grotto
Skipper's Smokehouse
Hattrick's Tavern
American Pie Pizza
Beef 'O' Brady's
The Catering Co.
Smoke Barbecue & Grill
Five Guys Burgers & Fries

California Pizza Kitchen
Square 1 Burgers
Just Eat Cookies
Tanya & Matt's Icecreamiest