Good afternoon Tampa Bay, Alex here to let you know that Urban Culinary Cuisine recently provided two students from Rwanda's Akilah Institute for Women with entrepreneurial tips.
 
Noella Abijuru and Allen Kazarwa, made the journey from Kigali, Rwanda to the United States for the first time. While on a 14 city fundraising tour of the United States, the women took the time to share their experiences and their goals for the future with their supporters.

While on tour, they took the time to meet with entrepreneurs: Executive Chef, John Saxton, known simply as "Chef" by the locals, and his wife, Rose Saxton of Urban Culinary Cuisine in New Tampa.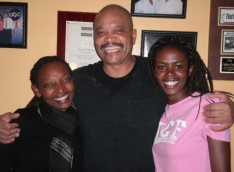 Noella Abijuru is a 26 year old survivor of the 1994 genocide and her goal is to own and operate her own hotel. While Allen Kazarwa is a 20 year old who wants to be an independent woman and own a tourism company.
The students and their supporters experienced the Chef's bold flavored, enticing creations of American, Southern, Cajun and Jamaican cuisines served in the urban-inspired, relaxed café environment of Urban Culinary Cuisine.

Executive Chef John Saxton has been hosting business related events and workshops at his venue, Urban Culinary Cuisine, and continues to support the growth of new entrepreneurs.
For more information about Urban Culinary Cuisine and "The Chef's Lecture Series", please visit www.UrbanCulinaryCuisine.com or call 813-994- 3800. For questions, please send an email to UrbanChef@UrbanCulinaryCuisine.com.
Check back with us next week for updates on Tampa Bay dining and things to do in Tampa Bay!