Hey everyone!
The annual Florida Strawberry Festival is right around the corner! From Feb. 26-March 8, be sure to make a trip out to Plant City for this very unique and fun experience!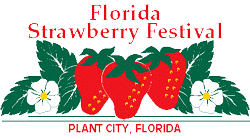 The list for this year's Tampa Bay entertainment line-up is quite impressive! Don't miss special performances by Kellie Pickler, Taylor Swift, Randy Travis, Travis Tritt, Ray Stevens, Lorrie Morgan, Jeff Foxworthy, Jessica Simpson and more!
 
Unfortunately, Julianne Hough had to cancel her appearance at this year's event, but Florida Strawberry Festival officials have worked closely with 99.5 WQYK-FM to find a replacement for the concert.  In order to make it up to their loyal Festival patrons, they have come up with a multi-talented line-up to go on stage at 3 p.m. Sunday, March 8.
Chad Brock and Killer Beaz, from the 99.5 WQYK-FM morning show, will perform with the up and coming new group Love and Theft along with headliner Trent Tomlinson in one free performance on the GTE Federal Credit Union Soundstage!
General admission seating for the 3 p.m. Sunday, March 8 show is free with paid gate admission, and is available on a first-come, first-seated basis.  A VIP section will be held, where folks can win reserved seats from 99.5 WQYK-FM.

For more information on these groups and on the Festival itself, please visit www.flstrawberryfestival.com. Stay tuned to this blog for more things to do in Tampa Bay!

See you there!
~Cheers