Okay so I don't meant literally stop what your doing, but if you had sampled some of the panini sandwiches at the
Sono Cafe
that I had sampled, then you would strongly consider it.
I had to head over there late yesterday afternoon for a meeting about the
EcoFestival
and
Criterium
events going on this weekend. While we were discussing business, I decided to have one of those famous panini sandwiches. 
I had small sample of one a few weeks back on the
Taste of the Riverwalk tour
. That was a much smaller sample, but more than enough to make my mouth water for one as soon as I stepped into the door.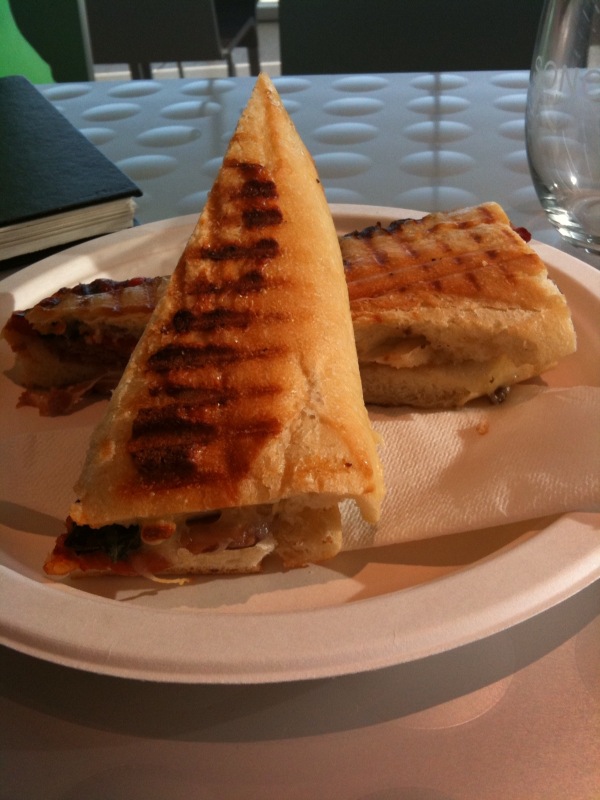 Be sure to
check out the full menu
as there are a number of panini to choose from, but I had the Parma Ham panini I believe. Pardon me if I don't know for sure, as I think I just devoured it before I actually took a good look at what kind it was. But it was well worth it, because it was the perfect end to a long day!
Panini's aren't the only thing on the menu believe me, as there are numerous coffees, gelatos, cookies, salads and sandwiches galore to choose from, so I need you guys to go out and spend some time there. That Way I don't have to go and order everything on the menu and make a pig of myself, which I could easily do!
I suggest going and ordering a panini and a gelato and then sitting outside on the patio to enjoy the great weather and panoramic view of the
University of Tampa
!
What makes the Sono Cafe (and the sandwiches) even better is that its nestled right on the first floor of the brand new
Tampa Museum of Art
, so it encompasses great food, and a great museum atmosphere to go along.
Again, though, don't just take my word for it! Go out there and check it out for yourself and leave me a comment on how you like it!
That's it for now, but stay tuned in for more updates on things to do in Tampa Bay, and tasty Tampa Bay dining tips!