Here in the hip, urban heart of Florida's Gulf coast, you can take a break without breaking your active, healthy routines. Outdoor activities and good-for-you food abound. So there's no reason to fall behind on your miles or your diet while you're here. Here's how: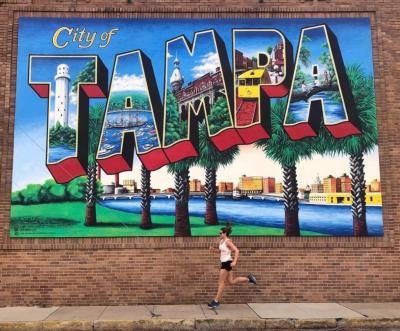 Go running | No sense letting a good run go to waste, especially if you can rack up the miles and learn something new at the same time. Go! Running Tours are 7 km and 10 km and take in some of Tampa Bay's most scenic neighborhoods. Or strike out on your own at sunrise for beautiful views along scenic Bayshore Boulevard or in the evening as the lights come up along the Tampa Riverwalk.
Hit the water | Urban Kai Stand Up Paddleboarding get you up close with Tampa Bay's varied marine life through this rapidly growing outdoor sport. Launching from the Tampa Riverwalk near Armature Works, Urban Kai's two-hour tour provides instruction, exploration, and a work-out all in one. If sitting down is more your thing, Tampa Bay Water Bikes, located on the waterfront near Tampa Convention Center offers its unique rides along with pedal-powered kayaks to explore the waterfront. A few minutes from downtown's glass towers, you can explore ancient cypress forests with a Canoe Escape journey down the Hillsborough River.
Make waves | The City of Tampa maintains a large collection of public pools, many set up for lap swimmers. This being Florida, they're available pretty much year-round. Non-residents need to buy a city rec card for $30 and a lap pass.
Bike | Got a smartphone and a credit card? Take Tampa Bay on two wheels with Coast Bike Share, which lets you rent a sturdy, urban bike to explore more than 100 miles of bike trails, on-street lanes, Bayshore Boulevard, and the Tampa Riverwalk. You can also put your mettle to the pedal for a two-wheeled tour of downtown and surrounding neighborhoods with Tampa Bay Bike Tours. Move through the region's urban heart on pedal power.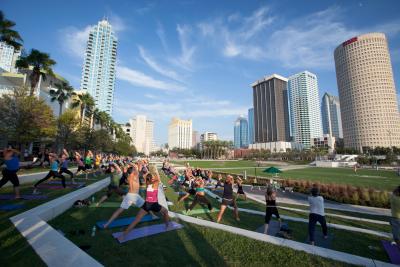 Yoga | Keep up with your practice during Sunday evening free public yoga sessions in Curtis Hixon Waterfront Park. (Summer time is perfect for lovers of hot yoga!)
Eat healthy | From freshly picked fruit in the winter to year-round seafood, healthy eating is as close as the nearest menu in Tampa Bay. Vegetarian, vegan, gluten-free options are also readily available in most restaurants. A few places to consider: Oxford Exchange (breakfast), Zukku Sushi at Armature Works (lunch), Fresh Kitchen (dinner).
Indulge | You are on vacation, after all. So tap into an IPA, Hefeweise, Red, or Trippel in Florida's hub for craft brewing. Tempt your sweet tooth with the confections at Chocolate Pi or book your spot at Bern's Steak House's famous Harry Waugh Dessert Room for luscious macadamia ice cream (you can work it off later). Speaking of ice cream, Tampa Bay has plenty of places to grab a melt-in-your-mouth treat.