Hi Everyone, Alex back with some great Tampa Bay Arts & Culture news.
After years without a full-time home, Tampa's
Stageworks Theater
has moved into a permanent location.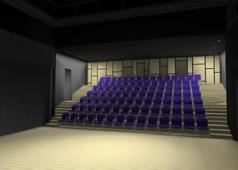 For almost 30 years, Stageworks was a theatre on the move, performing in a variety of rental spaces, from storefront in Ybor City to the University of Tampa's Falk Theatre to Shimberg Playhouse at the Straz Center for the Performing Arts. After quite a long time, Stageworks has found a nice new home in a complex in the Channel District, located just down the street from the Tampa Port Authority.
This new theatre is on the ground floor, has a spacious lobby and a pleasant courtyard.  If you are looking to watch a performace in a new facility, Stageworks in the place to go! 
Check out some of the wonderful plays taking place during Stageworks' first season in its new home at,
http://stageworkstheatre.org/index.asp
.
I hope you all check out this new facility and enjoy a great performance.
Have a wonderful weekend. Check back with us often for more information on Arts & Culture in Tampa Bay!