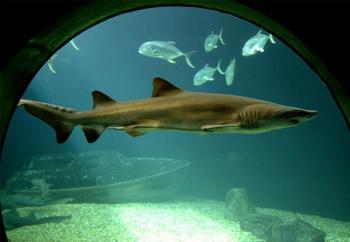 Just when you thought it was safe to go back in the water…Shark Week is back at The Florida Aquarium!
The Florida Aquarium celebrates sharks year round, but Shark Week at the Florida Aquarium is a truly special opportunity to learn more about these remarkable and threatened ocean predators. August 3-11, guests at the Aquarium will be able to see seven different species of sharks while enjoying fun shark-themed activities all day long.
Activities include:
A shark-themed scavenger hunt throughout the Aquarium
Interactive shark games and learning activities (August 3-4)
Shark-themed Dive Shows
Shark photo opportunities with the Aquarium's Mascot, Raldo
The chance to touch a shark at the Aquarium's new Stingray Beach!
In addition to all the toothy fun above, The Florida Aquarium will be also be offering additional Shark Feeding Tours and discounts on select shark merchandise. For particularly bold shark-lovers, the Aquarium's "Dive with the Sharks" program will be 15 percent off for the duration of Shark Week!
Come out to The Florida Aquarium this summer and unlock a whole new world of undersea adventure!
The Florida Aquarium is located at 701 Channelside Dr. in Tampa. For details, visit  or call 813.273.4000.