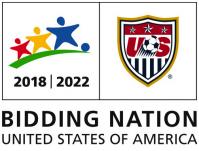 I told you I'd be back with more news didn't I! As it has been a theme this week, I got more news for you guys on the
USA Wold Cup Bid
, as we approach the official handing over of the bid to FIFA this Friday in Zurich Switzerland.
Executive Director of the USA Bid Committee
David Downs
, and Academy Award nominated director
Spike Lee
joined Good Morning America host Robin Robers on the show this morning to talk soccer and the USA's efforts to win either the 2018 or 2022 FIFA World Cup Bid!
As a filmmaker in his early days, Lee traveled through parts of Europe and took an interest in soccer due to its popularity there. His 12 year-old son has also taken an interest into the sport, which is one of many reasons he decided to become a member of the Board of Directors for the Bid Committee this past January. It was a pretty cool segment so check out the video below!
That's it for now, but stay tuned in for more World Cup Bid related in things to do in Tampa Bay!