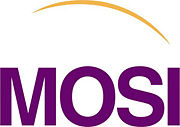 Hey all you Spring Breakers! Lisa here...I have a brilliant idea!! While you're off from school for a full week, why not "spring" into MOSI and celebrate a week of adventure and fun?! MOSI offers affordable day camps for youth, grades K-8, Monday through Friday, starting April 6 from 9 a.m. - 4 p.m.
All you have to do is bring two snacks and wear clothes that can get messy! Sounds perfect! Bring a lunch or buy one from the MOSI Café. MOSI also offers complimentary extended care from 7 – 9 a.m. and 4 – 6 p.m. daily. MOSI members receive a discounted rate on all camps.
And remember...the summer months are fast approaching! Don't forget to register for MOSI Summer Science Camps! MOSI offers day, half-day, technology and travel camps for youth (grades K-8), Monday through Friday, starting June 8. Register at www.campfun.org.
Have fun and learn lots! Stay tuned for additional things to do in Tampa Bay.

~Cheers!