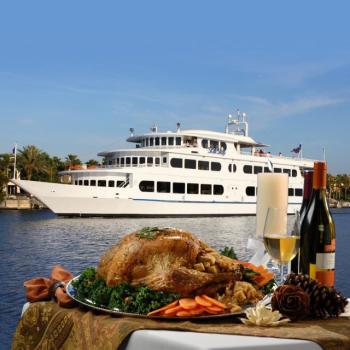 Wobble before you Gobble
Not sure how you're going to celebrate Thanksgiving? The Yacht StarShip is offering the perfect way to spend your day (or Thanksgiving Eve) on the water!
Bring your out-of-town guests to Rock the Yacht on Thanksgiving Eve (11/27) for a live music party cruise featuring the Roberto DeBourg Band. Presented by Sweetwater 420, the cruises are 21 and up and begin with a complimentary Sweetwater beer! Start the holiday off right with a night cruise through the channel and beautiful views of downtown Tampa, Davis Island and Harbour Island.
Rock the Yacht Cruise Time
Boards: 1:00 p.m.
Departs: 1:30 p.m.
Returns: 3:30 p.m.
Rock the Yacht costs $25/person plus tax and port fee.
Or, spend your Thanksgiving enjoying a traditional feast on the Yacht StarShip. Dine on a buffet of upscale traditional favorites such as slow roasted turkey with sage pan gravy, candied sweet potato and pecan mash, green beans almondine, and more. Relax with your entire family and don't worry about the dishes as you take in the unique sights of Tampa. These cruises sell out, so make your reservations as soon as possible!
Thanksgiving Cruise Times                                           
Boards: 11:00 a.m.                                          Boards: 2:30 p.m.
Departs: 11:30 a.m.                                        Departs: 3:00 p.m.
Returns: 1:00 p.m.                                          Returns: 5:00 p.m.
Cruise Prices (plus tax, port fee, and gratuity)
AM Cruise Adults: $54.95
AM Cruise Children: $29.95
PM Cruise Adults: $64.95
PM Cruise Children: $39.95
Reservations can be made online or by calling 813-223-7999.