Good morning Tampa Bay, Alex here to let you know about a fun event for a good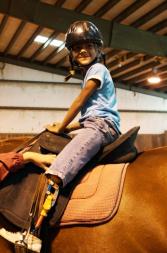 cause happening this weekend.  
Hillsborough County's Bakas Equestrian Center is hosting Special Olympics Equestrian Events on the evening of Friday, April 1 and all day on Saturday. April 2. 
More than 30 Bakas Equestrian Center riders will be competing against riders from Pasco and Hernando counties.
 
Event Schedule
Friday, April 1
5 p.m. - Riders and Volunteers check-in
6 p.m. - Competition: Trail course
Concession stand will be open for dinner
Saturday April 2
9 a.m. - Riders and Volunteers check-in
9:30 a.m. - Opening Ceremonies
10 a.m. - Competition:  Showmanship, speed events, equitation, drill teams
Events will end around 4 p.m.
Concessions stand will be open for breakfast and lunch
The Bakas Equestrian Center is part of the Hillsborough County Parks, Recreation and Conservation Department. Since 1987, this therapeutic recreation program has been working to help  thousands of disabled riders every year.
The Center hosts riding lessons for children and adults who have physical and/or mental disabilities. It also offers riding to the general public, including scheduled trail rides and birthday parties. 
Good Luck to all of you riders participating in the race this weekend!
For additional information on the Special Olympics Equestrian Events, call (813) 264-3890 or
click here
.
Check back with us throughout the week for more information on Things To Do In Tampa Bay!