Hey Tampa, It's Jodi to tell you about a special World Cup Watch Party at
Splitsville Lanes
. The World Cup is winding to a close this weekend so don't miss your last chance to be a part of this worldwide event.
Splitsville will be hosting a unique World Cup Watch Party Saturday, July 10 at 2 p.m., for all of Tampa's soccer fans and the Crew of the Uruguayan Tall Ship the Capitan Miranda. Uruguay will facing off in the semi-final match that day.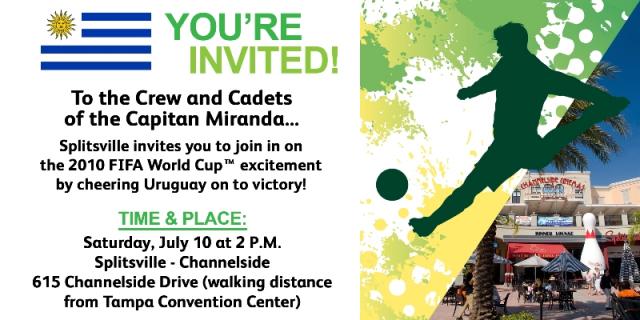 This watch party is a great opportunity to get the true global feel of the World Cup and to celebrate the arrival of the Tall Ships to Tampa. The Tall Ship festivities kick-off on Saturday and continue through the week.
Along with Uruguay's Capitan Miranda, there are two other Tall Ships: Colombia's Gloria and the United States Coast Guard's Eagle. All of the ships are open for tours but a ticket is required for the Gloria and the Capitan Miranda.
If you haven't attended a World Cup Watch Party, this is your chance to see a truly dynamic match with all the international charm the World Cup is renowned for. If soccer is not your thing make sure you come out to see the beautiful, historic Tall Ships; they are truly spectacular.
They will be available for viewing and tours at Channelside (for the U.S.C.G. Eagle) and the Tampa Convention Center (for the Gloria and Capitan Miranda). For the crew and cadets of the Capitan Miranda, Splitsville will be offering specials including free billiards in the billiards room.
For more information on the Tall Ships go to
www.yachtstarship.com/SailTampaBay
or
www.SailTampaBay2010.com
Also don't forget to show your support for the USA World Cup Bid in 2018 or 2022 by signing the petition at
www.GoUSABid.com/TampaBay
! That's all for now, but stay tuned in for more updates on the World Cup in USA!