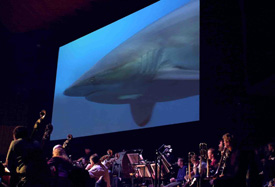 Hey everyone...Travis back with information about a special concert from the Florida Orchestra.  With a towering movie screen and multiple projectors, the extraordinary power and mystery of the sea almost spill into the audience. 
Experience the magical world of some of the ocean's most fascinating creatures accompanied by George Fenton's glorious multi-award winning score performed live by The Florida Orchestra.
It happens on Fri, May 7, 8 pm at the Straz Center for the Performing Arts - Carol Morsani Hall.  Tickets are $25, $45, $65, and just visit http://www.floridaorchestra.org/event_info.asp?id=53&utm_medium=email&utm_source=peer360&utm_campaign=AprilMediaCalendar&utm_content=0910OfNoteEmailHeader for more information. 
See you back here for more great things to do in Tampa Bay.