athleticsyck again with another Tampa Bay Sports update! THIS IS SPARTA!!! Pardon me, as I was channeling King Leonidis and my inner Spartan there for a moment.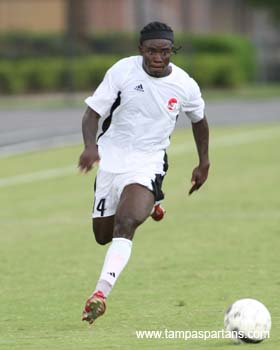 Tonight the University of Tampa Men's Soccer team will take on St. Leo as they look tclosese out the regular season in style before defending their Sunshine State Conference title!
The Spartans have been ranked in the top 10 in each of the regular season polls this year, including three weeks at number one and will also  look to continue their 16 game home win streak that dates back to 2007 against this same St. Leo Lions team.
The Spartans will also honor a veteran group as tonight will be the final home game for a group of seniors that will be greatly missed come next year. 
The Spartans are led by senior and top goal scorer
Pascal Milien
, who has tallied 10 goals to go along with three assists for 23 points. In goal for the Spartans is fellow senior
Ryan Thompson
who boasts an 11-1-1 record with three shutouts and a 0.89 goals against average.
Kyle Williams
will lead back-linene that has allowed just 12 goals on the year so far.
All fans can access tonight'match-upup via a livweb-castst through
www.tampaspartans.com
where live stats will be available. If you want to get game updates on your mobiel device, UT also offers eScores, which is a free text messaging service that sends text alerts following all Spartan events. Fans may also follow University of Tampa athletics on Twitter (
www.twitter.com/utspartans
) and
Facebook
.
Its gonna be a great night of soccer here in Tampa Bay so be sure to get out there and support these local teams! Jerm will most likely be there tonight in support of his Spartans so be on the lookout for me!
In the meantime, be sure to keep checking back for more Tampa Bay area events updates about the Spartans!