Lisa here, with a Tampa Bay Dining update!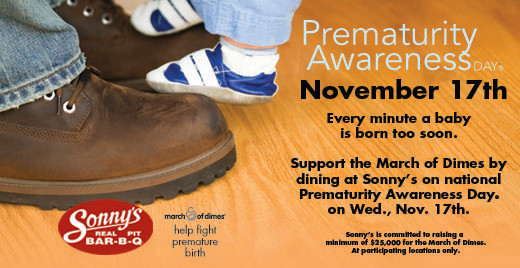 Sonny's BBQ is partnering with The March of Dimes to help fund-raise for their prematurity campaign. This years Prematurity Awareness Day is Wednesday, November 17th. At participating locations, a portion of each meal sold will go straight to the foundation. So if you are trying to decide Where to Eat on the 17th, Sonny's is the answer. Check with local stores to see who is
participating
.
Everyone has heard about The March of Dimes (or at least I hope everyone), but what exactly is it, and what do they do?
The March of Dimes launched the Prematurity Campaign in 2003. This campaign has two main goals. One is to raise public awareness to the problems of prematurity, and two is to reduce the amount of pre-term births in the United States. This campaign educates women, raises funds, helps health care providers to improve risk detection and so on.
Through this campaign The March of Dimes has deemed November as prematurity awareness month. They use this month to help get the word out about the risks and devastation of premature birth.
Just a few facts about premature birth from the March of Dimes
website
: 543,000 or 1 in 8 babies are born prematurely each year. Premature birth is the number 1 killer of newborns, and premature babies cost 10 times more than a healthy newborn. Based on those statistics alone, this is a serious problem. The worst part is a lot of time premature birth is unexplainable. This is why the March of Dimes is so committed to figuring out why premature birth happens, and how to help prevent it.
Sonny's BBQ is also committed to this amazing cause. So get out the Tampa and enjoy some BBQ on the 17th, or even buy your office a nice lunch.
That's all for now, but stay tuned for more Tampa Bay Area Events, and Things To Do In Tampa Bay!