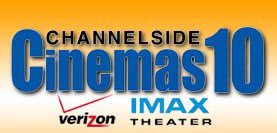 Hey gang, Jerm here with some movie updates for you guys!
There seems to be so much going on these days and so much to do here in Tampa, but every now and then you just gotta go simple and check out a good flick from time to time.
I used that term "simple" very loosely though when talking about the
Channelside IMAX and Cinemas 9
at Channelside Bay Plaza. There is nothing simple about watching a movie on a Sony Digital Cinema 70' giant screen while also watching it in 3D! Well that is exactly what I will be doing this evening as I will be heading out to catch Avatar in stunning 3D. Yes, even I am amazed that I have waited this long to see the movie, but watching the Oscars a few weeks back has inspired me to finally go. The last movie I saw in this theater was The Dark Knight, and it was equally stunning from a visual point of view, so I am excited to go and see Jame's Cameron latest masterpiece.
If you have been looking to see Tim Burton's version of Alice in Wonderland, you can also catch it on 3D on the huge screen as well. I will be seeing that one also in the coming weeks so be sure to join me! Be sure to
visit the website
for all movie times.
Of course all of this is right dead center of the Channelside Bay Plaza complex, which happens to be a hot-spot when you talk about Tampa Bay entertainment, with restaurants bars, and plenty of other things to keep your interest while your there, so what the heck are you waiting for!
That's it for now, but stay tuned in for more updates from Jerm on things to do in Tampa Bay!