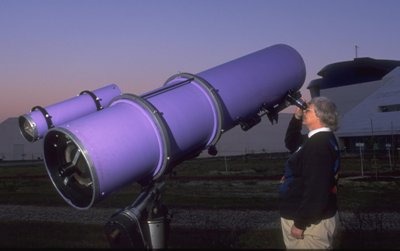 Hi all. It's Melissa writing to you guys about MOSI's SkyWatch, which will take place on two separate evenings in October. MOSI's impressive telescopes will allow you to gaze at stunning celestial showpieces and be mesmerized by planets, star clusters and the moon.
Not an astronomy buff? Not a problem! MOSI's astronomy staff and members of the MARS club will be there to answer any questions you may have. SkyWatch will take place over by the butterfly garden.
Here are the two dates this event will be happening:
Saturday, October 23, 2010 from 8 – 10 p.m.
Saturday, Nov. 20, 2010 from 7 – 11 p.m.
The November 20th session will include scanning the sky for Leonids meteor shower. Of course, these viewings will begin after sundown and are weather permitting. Unfortunately weather conditions such as rain or clouds will force the cancellation of the SkyWatch event. So, keep your fingers crossed and your eyes open for this amazing experience.
More information about the event can be found on the MOSI website. Keep visiting us for more information about fun and interesting Tampa Bay area events!