If you've always wanted to be part of a sports team, this could be your shot! Lisa here with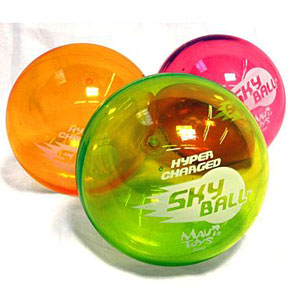 an announcement for Tampa.
There is a new television show on Fox Sports and they are looking for players. The Sky Ball League will be in Tampa on April 23rd for tryouts.
The tryouts will be at the Florida State Fairgrounds and they are looking for a coed team of 8 Sky Ballers to represent Tampa in the Sky Ball League Tournament of Champions this June in Los Angeles.
If you make the team you get a free trip to Hollywood, and the chance to win a cash prize. In order to try-out you must register online. And the tryouts are at The Florida State Fairgrounds this Saturday April 23rd, 9am-6pm. Enter through the Orient Road gate, exit 6 off of I-4.
Here's a crash course on Sky Ball. Two teams of 4 battle it out through 4 ten minute quarters. The team with the highest score at the end wins. It's a tough game to explain, so I'm going to direct you to the
official website
, and suggest you watch the video. I did, and it really looks fun!
That's all for now, but keep checking in for more Things To Do In Tampa Bay, and other Tampa Bay Area Events!