Hey Tampa Bay, Alex here to let you know the perfect way to spend your next date night...enjoying an evening tasting food and sampling over 150 premium wines from Spain, California and South America along with food from The Columbia Café on The Riverwalk.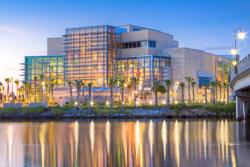 The Sixth Annual "Andrea's Sip for Life" Wine Tasting is taking place at the Tampa Bay History Center on March 9 from 7-10 p.m. to help find a cure for Adolescent Young Adult (AYA) sarcoma.
Make your reservations today! (A $100 donation is required per person.) For reservations or more information, visit www.columbiarestaurant.com or call 813-248-3000, ext. 24.
100% of every dollar donated and raised will benefit the Adolescent Young Adult (AYA) initiative for sarcoma research at H. Lee Moffitt Cancer Center & Research Institute. 
This event is sponsored by the Columbia Restaurant and The Gonzmart Family Foundation.
Check back with us often for more information on Things To Do In Tampa Bay!