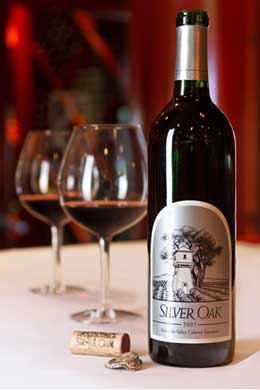 Hello everyone! Jerm here with an update for you on a splendid Wine Dinner event going on at
Flemings Steakhouse & Wine Bar
Indulge your passion for great wine at a special dinner celebrating the "twin sister" Napa Valley wineries of Silver Oak Cellars and Twomey Cellars. This one night event on 17th (depending on your location)* is the highlight of their September "Month of Discovery," and features an exceptional 5-course menu created especially for these iconic wines. 
SATURDAY, SEPTEMBER 17th, 6:30 PM*
$125 PER GUEST, INCLUDING WINES**  
PASSED HORS D'OEUVRES
Roasted Red Pepper and Arugula
Flatbread with goat cheese
TWOMEY, Sauvignon Blanc Napa Valley, 2010  
FIRST COURSE
Tuna Carpaccio with crispy capers,
red onion, baby greens and Dijon vinaigrette
TWOMEY, Merlot Napa Valley, 2006  
SECOND COURSE
Petite Lamb Chops with polenta fries, mint
pistachio pesto and our proprietary F-17 sauce
SILVER OAK, Cabernet Sauvignon Napa Valley, 2006  
THIRD COURSE
Newport Club Ribeye with thick-cut applewood smoked
bacon, sautéed mushrooms and bacon-shallot butter
SILVER OAK, Cabernet Sauvignon Alexander Valley
Vertical tasting of the 2006 and 2007 vintages  
DESSERT
Trio of Flavored Truffles: White Chocolate-Meyer
Lemon, Valencia Orange, and Dark Chocolate-Cabernet
Coffee & Tea
As you can see, this is a great value for all that you get so act fast, as space is limited. Please call early to secure your seat at (813) 874-9463! For more details on this event,
visit the Fleming's website
!
That's all for now folks, but be sure to stay tuned in for more Tampa Bay dining updates and news on things to do in Tampa Bay!