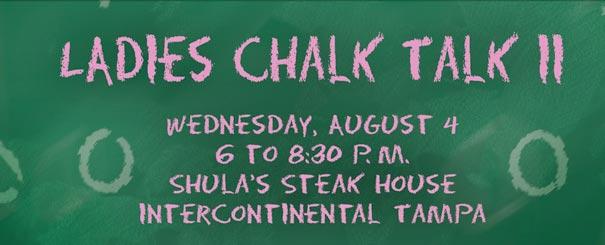 Hello there again folks.. Julian here with more great stuff to do for you guys:
Shula's Steak House
and
InterContinental Tampa
are inviting women to huddle up for an evening of great food, drinks and some Football 101 fun – all for a wonderful cause. Derrick Brooks – former linebacker for the Tampa Bay Buccaneers – and Ian Beckles – former Buccaneer and current host of the "Ron & Ian" show on 620 WDAE The Sports Animal – will spend the evening "coaching" guests through the ins and outs of the game. This year, they will be joined by Darek Sharp, also of 620 WDAE The Sports Animal, to break down the game of Fantasy Football.
The evening's culinary line-up includes lobster bisque, tomato mozzarella salad, beef tips and Shula's famous BBQ shrimp, as well as specialty cocktails.  Shula's will heat up the game with an exciting raffle offering prizes ranging from vacation getaways to spa treatments.
All profits from the ladies-only event will benefit Derrick Brooks Charities, Inc., whose mission is to provide educational opportunities for socio-economically challenged youth that will instill, inspire, broaden, and develop cultural and social vision outside of the walls in which they live to ensure that they have every chance to develop into the strong and productive leaders of tomorrow.
WHEN: Wednesday, August 4, 6-8:30 p.m.
COST: $50 per person in advance, $60 at the door – all profits from the event and all proceeds from the raffle with benefit Derrick Brooks Charities.
WHERE:
Shula's Steak House
at the
InterContinental Tampa
, 4860 West Kennedy Drive, Tampa, FL 33609, (813) 286-4366
RESERVATIONS: To join the team, please contact Diane Neri at (813) 639-4125 or via email at dneri@intercontampa.com. For additional information, please call (813) 318-9611 or contact via email at kelly@hayworthcreative.com.
Always check back here soon, and I'll keep you up-to-date with Tampa Bay area events and fun things to do in Tampa Bay!