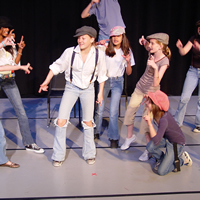 Hey everyone!  Travis here again.  We usually bring you the most anticipated Tampa Bay area events of the season...with professionals and experts.  Well, this time, we're not dealing with professionals, but we do have some serious talent. 
On Dec. 19 in the TECO Theater at the David A. Straz Center for the Performing Arts, you'll be able to see some great talent, ranging from adults several youth groups.  Here are the details about each:
Fall Adult Showcase - The Adult Student Showcase brings students in music, dance, musical theater and acting out of the classroom and onto the stage to share the performing arts on which they have been working.
Fall Youth Showcase A & B - The Youth Student Showcases display the talents of a small selection of courses, including musical theater, dance, acting and music. Students from the Orlando Ballet School at the Patel Conservatory may also perform.
These performers will perform their tails off, so come on out and show them your support!  Like I said, it's taking place in the TECO Theater, and Regularly priced tickets start at $8.
Just log on to www.tbpac.org for more information and to get tickets.  I hope to see you out there. 
We'll be back later with other great things to do in Tampa Bay, and more Tampa Bay entertainment.