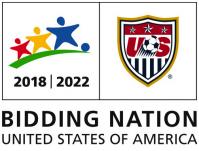 Hello there soccer fans! It's getting closer to our big event this Friday, where in support of the USA Bid Committee handing over the official USA World Cup 2018/2022 Bid, we'll be doing giveaways every hour starting at 10 a.m. till 4 p.m. For more details on that, check out my previous
post from yesterday
. Just to be safe though, tomorrow I'll give you a re-cap of everything that is goin down!
As promised, for those of you that have been patiently awaiting to hear what prizes will be up for grabs, wait no more because here they are along with the breakdown of when we'll be doing each prize:
(10-11 a.m.)
Sheraton Suites Tampa Airport
- This lucky winner will receive complimentary accommodations for a (2) night weekend stay for (2) guests including breakfast. The newly renovated Sheraton Suites Tampa Airport boasts two-room suites with separate living room and bedroom complete with Sheraton Sweet Sleeper Beds, refrigerator and microwave. All surrounding a beautiful eight-story garden atrium with tropical trees and plants. This certificate is valid until 05/2011.
(11 a.m.-12 p.m.)
Florida Aquarium Presents SudsFest 2010
- Once again its time to drink like a fish at the Annual Sudsfest Beer Festival presented by the Florida Aquarium! This event will feature hand crafted beers from Pepin Distributing and fine Anheuser-Busch Products. Over 35 craft beers, live music & entertainment and endless food await the lucky winner and 1 guest of this giveaway.
(12-1 p.m.)
Splitsville Luxury Lanes & Dinner Lounge
- Bowling, billiards and dinner lounge featuring gourmet appetizers, sushi, and classic retro entrees are what awaits  the winner of our noon slot. Enjoy a $50 Gift Certificate and six free games of bowling!
(1-2 p.m.)
IPod Nano Giveaway
- This giveaway will come with special instructions and a very specific Tweet in order to be entered to win. In order to make yourself eligible for this giveaway, all you have to do is Tweet the following... "
.@goUSAbid gives FIFA their bid to host World Cup. Sign petition to support the USA! http://www.gousabid.com #goUSAbid PLS RT
"
(2-3 p.m.)
Museum of Science & Industry (MOSI) Genius Ticket (2)
- Tickets includes: Da Vinci - The Genius Exhibition, MOSI exhibit Galleries and one Standard IMAX Dome Film. The DaVinci event will run until May 31, 2010, so this prize package must be redeemed by that date. DaVinci - The Genius takes visitors on a journey through DaVinci's thoughts, with reproductions of his most famous renaissance art in actual size, a series of anatomical sketches, and entertaining and educational presentations in 3D of the Mona Lisa, The Last Supper, the Vitruvian Man and the Sforza Horse. 
(3-4 p.m.)
Busch Gardens Tampa Bay
(4) Pack Giveaway - Busch Gardens Tampa Bay combines world-class thrill rides, live entertainment and one of North America's largest zoos in an unforgettable adventure for the whole family. If your the lucky winner of this giveaway, you and your family and/or friends will receive a 4 pack ticket giveaway for entry into the park!
Well, as I was telling you earlier in the week folks, its a pretty stacked array of prizes that you could be on the receiving end of, so lets make sure that come Friday you are Tweeting us into a trending topic so that we can show the world that Tampa and the USA are ready to host this amazing event!
Be sure to go to
www.VisitTampaBay.com/WorldCup
, or
www.GoUSABid.com/TampaBay
, and sign the petition to show your support for Tampa Bay and the USA for 2018 or 2022! That's all I got for now, but I'll have more updates tomorrow and on Friday before the giveaways kick-off!
Stay tuned in for more on things to do in Tampa Bay and World Cup related Tampa Bay area events information!