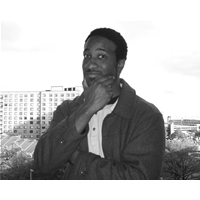 Hi everyone!  Travis here again!  Seeing as how the David A. Straz Center for the Performing Arts has so much going on right now, I figured we could bring you more Tampa Bay area events happening out there.  So, here we go. 
Shomari McKenzie's A Journey Through US is playing at the Shimberg Playhouse (at the Center) on Dec. 19.  Here's some background on Shomari and the show: 
Shomari McKenzie was born and raised in Tampa, Fla. He has always been a history buff, which led him to look at different phases of time and write about it.
He has been performing on the east coast – storytelling and doing stand-up comedy about his personal experiences. McKenzie then decided the best person to bring his writings to life was himself.
In A Journey Through US, he examines many different characters – from slaves being brought from Africa, to notable people we have read about, to folks like those we see across the dinner table each night. It will make you think; it will make you laugh.
At the end of the evening, you will have had a lot of fun as well as a lot to talk about. McKenzie is excited to bring his one-man play to Tampa.  Oh, and it's recommended for ages 13 and older, and the running time is about 1 hour and 40 minutes! 
Regularly priced tickets start at $20, so again, a pretty good deal!  Head over to www.tbpac.org to order your tickets and get more info!  Have a great time! 
See you soon with more things to do in Tampa Bay for the holidays, and other amazing Tampa Bay entertainment options.