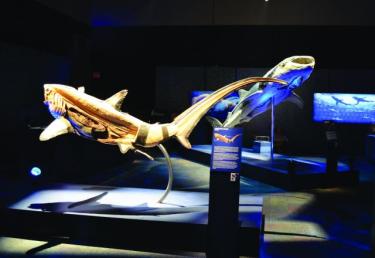 Celebrate Shark Week from August 3 – 9 at MOSI with games, activities, and the anatomy exhibit Sea Monsters Revealed! Beginning Saturday, August 3, from 10 a.m. to 3 p.m., and running through August 9, the first 50 guests of each day will receive free admission when they purchase a ticket to Sea Monsters Revealed.
During Shark Week, real shark dissections will be on display in MOSI's grand lobby. Dr. Daniel Huber, shark expert, Discovery Channel consultant and University of Tampa professor, will be at MOSI to speak about some of the myths and mysteries associated with these misunderstood creatures. Guests will be able to view the night sky over some of the world's most active Great White Shark feeding grounds inside The Saunders Planetarium, and build their own Lego® sharks inside Idea Zone, MOSI's inventor's studio.
For an additional fee, guests can visit Sea Monsters Revealed, where they will see the anatomy of the most elusive aquatic life ever discovered, including a 15-foot-long mako shark, a pregnant silky shark and an 18-foot-long, 3,000-pound whale shark.
Shark Week is included with MOSI admission and is free for members. Tickets for Sea Monsters Revealed are $18.95 for adults, $16.95 for seniors (60+) and $12.95 for children (2-12).