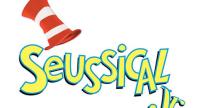 Good morning everyone, Alex here to tell you about a great musical taking place this July.

Patel Conservatory Summer Theater students will present Seussical the Musical, Jr. on July 21-22 at Ferguson Hall in the Straz Center for the Performing Arts.

On July 5, students in grades three through eight will start to craft their characters and learn their lines to bring the show to life, as part of this full-day, three-week summer camp.
Seussical the Musical, Jr. is known as a fantastical, magical, musical extravaganza, featuring favorite Dr. Seuss characters, including Horton the Elephant, The Cat in the Hat, Gertrude McFuzz and JoJo the Who. This colorful troupe journeys from the Jungle of Nool to the Circus McGurkus to Whoville, proving that powers of friendship, loyalty, family and community are everlasting.
Performances will be held Thursday, July 21 at 7 p.m. and Friday, July 22 at 7 p.m. in Ferguson Hall at the Straz Center for the Performing Arts.
 Regularly priced tickets start at $15 and may be purchased by calling 813.229.STAR (7827) or 800.955.1045 outside Tampa Bay, in person at the Straz Center Ticket Office or online at www.strazcenter.org.
Want your children to be part of a musical? If so, check out what camps the Straz Center is offering this summer.

The Patel Conservatory offers camps and classes for children and adults of all experience levels in all kinds of dance, music and theater. To register and for more information about the Patel Conservatory, call 813.222.1002 or visit www.patelconservatory.org.
I hope you are all having a wonderful day. Check back with us throughout the week for more information on Things To Do In Tampa Bay!