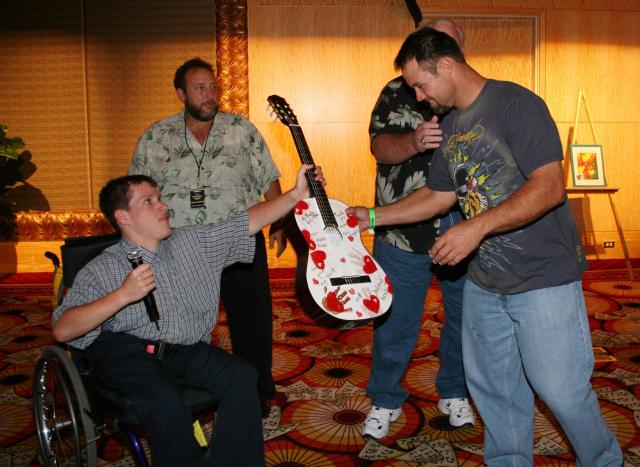 Hey gang...Travis here with some Tampa Bay enterainment news, as well as some Tampa Bay hotel updates...all in one! 

Pop artist, Jules Burt, former Tampa Bay Buccaneer Mike Alstott, and current Buc defensive tackle, Chris Hovan are the celebrities confirmed so far to participate in the Seminole Hard Rock Hotel & Casino's annual Angelus Guitar Auction. 

It all takes place tonight at 7p.m. in Floyd's nightclub at the Hard Rock in Tampa, where one-of-a-kind guitars decorated and signed by Charlie Daniels, Kenny Chesney, and Brooks & Dunn will be auctioned.

Artwork produced by residents of The Angelus will also be available for purchase. All art exhibition and auction proceeds benefit The Angelus non-profit organization for severely handicapped children and adults, located in Hudson.

Tickets will be for sales at the door for ONLY $10. (This event is for ages 18 and up only.)

Hosted by Chad Brock and Dave McKay of country station WQYK 99.5, the night will feature a silent auction at 7p.m. and a live auction at 9p.m.

PLUS, complimentary hors d oeuvres and wine samplings will be served courtesy of the Seminole Hard Rock.

In case you don't know about the Angelus, here you go:
The residents and students at The Angelus all have cerebral palsy and use wheelchairs for every day functioning. The 20-year-old organization in Hudson, Florida is a place for severely handicapped residents to call home. The Angelus currently has five group homes with 32 residents. With the continued help of the community, the goals and philosophy of the Angelus "a place to live, to love, to learn" will be maintained and the quality of life for the people who cannot help themselves will be assured. Visit www.theangelus.com for more information.

and of course, you can log on to www.seminolehardrocktampa.com to get more info about the Seminole Hard Rock Hotel & Casino. 

As always, keep checking back for more great things to do in Tampa Bay.