Hello all! Here is Tampa Bay nightlife update that can have you seeing dollar signs! How about changing that poker face to a wide grin? Currently, the accumulated Mega Bad Beat Jackpot, as of 6 p.m. last night, is $301,219 and growing daily) and along with Seminole Hard Rock Tampa's own local Bad Beat Jackpot of $72,000, the current combined jackpot total of nearly $400,000 makes this one lucrative win for whoever hits the pot.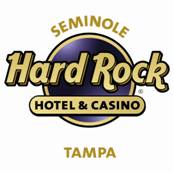 The more play Seminole Hard Rock has in the poker room, the higher the jackpot goes. That winner can hit anytime, and that winner can be YOU! Once someone hits the Mega Bad Beat Jackpot, it immediately resets at $100,000; that's something only done at Seminole Casinos in Florida.
All it takes is one lucky hand; here's how a poker player can win the Mega Bad Beat Jackpot…Only the top two hands at the showdown are eligible for the Mega Bad Beat Jackpot and both hands must be the best possible combination of five cards. At least four players must be dealt in a qualifying table. 
Tables with less than four players will not have a jackpot drop. Multi-table tournaments are excluded from winning the Mega Bad Beat Jackpot.  Single table tournaments are eligible until less than four players remain. Players must play their hands independently.*
Texas Hold'em Requirements:
§        Four Tens or better, beaten by a better hand.
§        Both players must use both hole cards.
§        Two of the four of a kind must be hole cards. 
The Mega Bad beat Prize Pool will be Awarded as Follows:
§        50% will go to the qualifying losing hand.
§        30% will go to the qualifying winning hand.
§        20% will be divided among the players at the table who were dealt cards when the qualifying hand is dealt.
Check back soon for more info on gaming related things to do in Tampa Bay!