Hey everyone, Lisa here! Are you as excited as I am about the beautiful weather we are about to encounter over the next few months? Recent coldfronts (yes, 65 degrees is cold for us Floridians) have really put a damper on our time in the sun!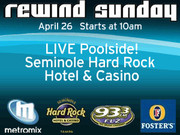 So... if you're ready to start working on your summer tan, then you can't miss the Hard Rock Hotel & Casino's free REWIND Pool Party taking place on Sunday, April 26 from 10 a.m. - 4 p.m.
Join in on the fun and even enter to win a 4-day, 3-night trip to Hard Rock Calling 2009 in Hyde Park, London from June 27-28.  This year features The Boss himself - Bruce Springsteen and the E Street Band - headlining on Sunday the June 28! Hey - we just saw him not too long ago when he performed at the Super Bowl in Tampa Bay!
For more information on this fun and exciting pool party, please visit 
www.seminolehardrocktampa.com
or click on this
link
.
See you in the sun, and stay tuned for more Tampa Bay area events!
~cheers